On Land Art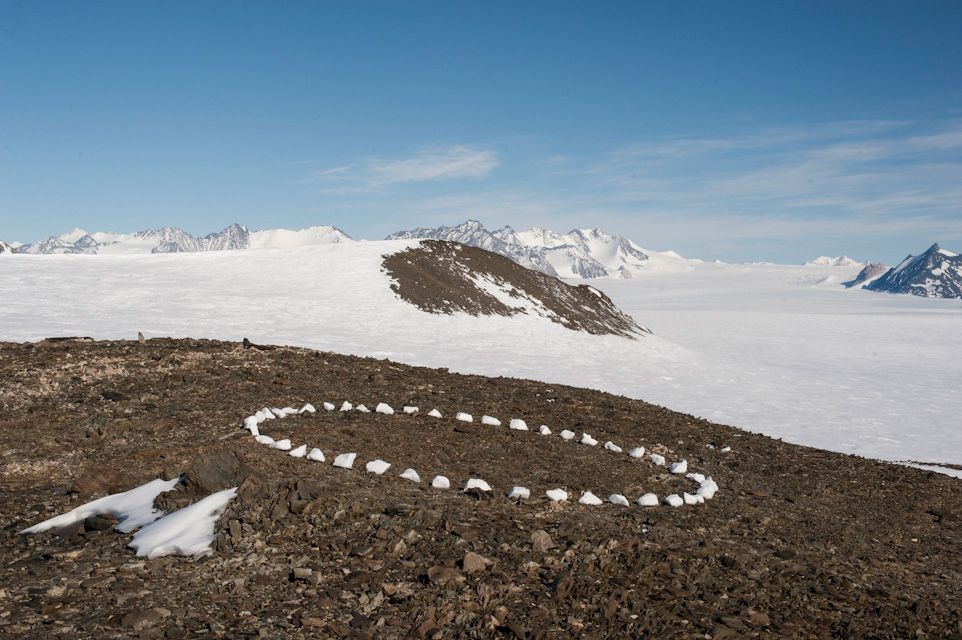 "A work of art when placed in a gallery loses its charge and becomes a portable object or surface disengaged from the outside world"
Robert Smithson
Land Art or Earth Art is defined as a practice that directly intervenes into the natural landscape, sculpting earthly structures, the land itself into artworks. Principally an American art movement, the artist dedicated to this type of artistic practice recorded and documented these actions as photographs or maps to exhibit in galleries and museums. Robert Smithson's Spiral Jetty works have become the most famous and recognisable imagery of land art. Alongside key artists such as Richard Long, Michael Heizer, Nancy Holt, Walter de Maria and Andy Goldsworthy, he developed an artistic vocabulary redefining sculpture through an exploration of process and size that expanded beyond the confinement of the traditional art world.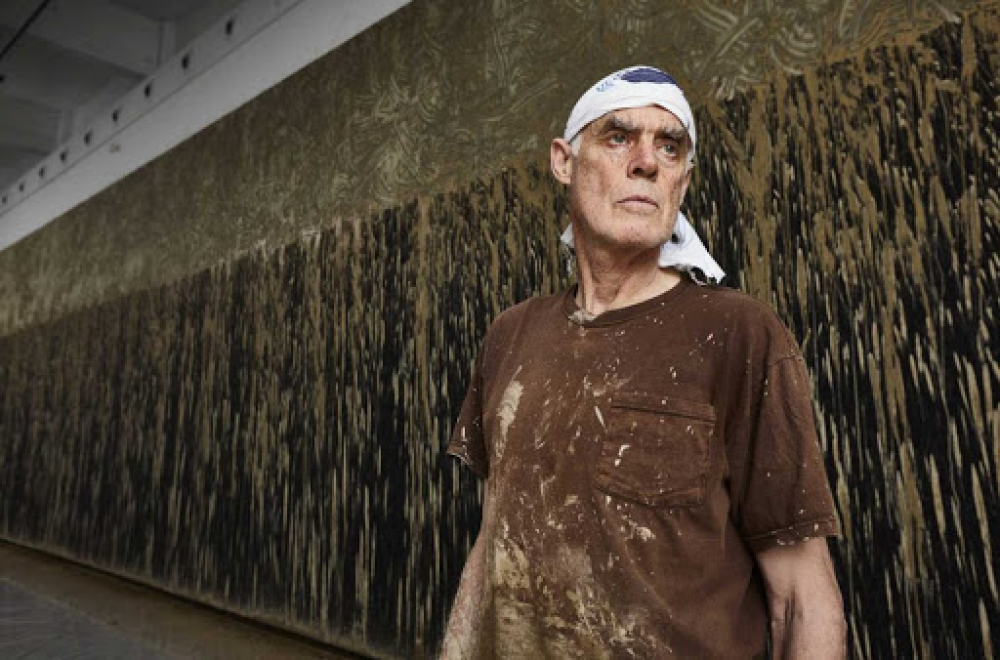 British artist Richard Long (b.1945), a sculptor and one of the best-known land artists, created a formative work for the movement titled "A Line Made By Walking" while still studying at Saint Martin's art college in London. The work is a physical intervention into a landscape, a field in
Wiltshire onto which the artist trampled a straight line. This was executed on a hiking journey between his home in Bristol and his university in London. Within his practice, Long has incorporated walking, hiking as a conceptual medium, transcending the work's presence as corporeal and demonstrating the artist's interest in performative art practices. Land art is, by default, participatory. Its concept often relates to the materiality of the Arte Povera and the "social sculpture" format, a theory Joseph Beuys developed based on the understanding that everything is art and every aspect of life, approached creatively, has the potential to be art or make an artist.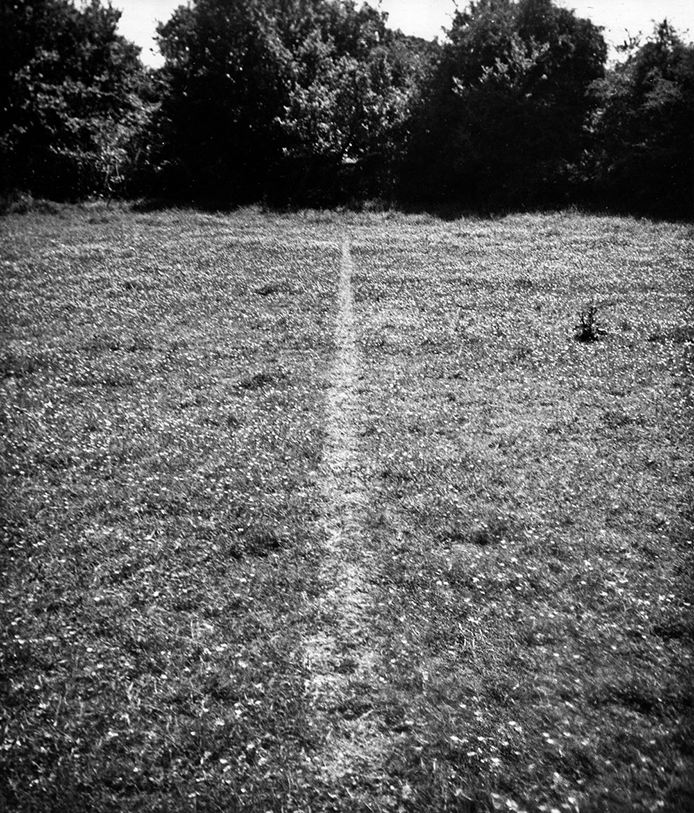 Directly intervening into nature, Long's intent is documented as one that originated from seeking to make nature the medium of the artwork. "Nature has always been recorded by artists, from prehistoric cave paintings to twentieth-century landscape photography. I, too wanted to make nature the subject of my work, but in new ways. I started working outside using natural materials like grass and water, and this evolved into the idea of making a sculpture by walking".
While artists such as Long oriented themselves similarly to the Arte Povera artists, working with "poor", or natural materials, some Land Art employ machinery in large-scale efforts to create monumental excavations and constructions. Most prominently working on this scale is artist Michael Heizer who has been working since the 1960s.
Growing up, Heizer followed his parents to archaeological sites around the world, which deeply informed his contemporary practice. Excavation and the interplay of negative and positive space play a fundamental role within his Land Artwork, some of which include long-term projects such as "City" in the Nevada desert. In the 1970s, Heizer sought new terrain for his Land Art and started accumulating a real-estate portfolio of six different western states, buying remote land as raw material for his landscape artworks. His project "City", inspired by pre-Colombian cities in Central and South America, is of monumental architectonical scale. Made entirely from rocks, concrete and sand, the construction towers over the dried landscape.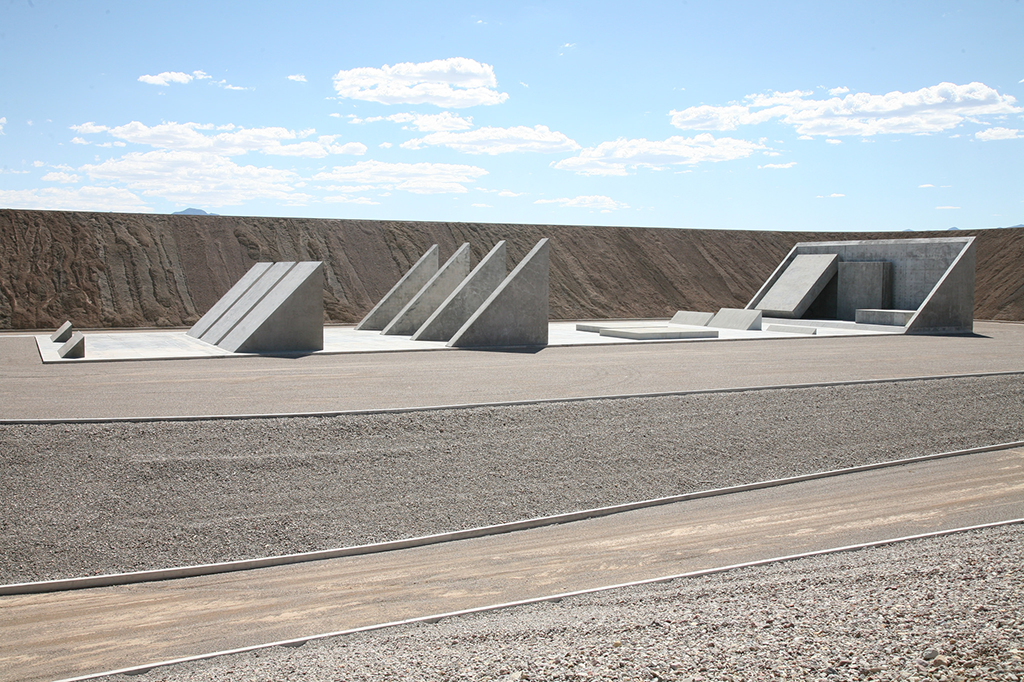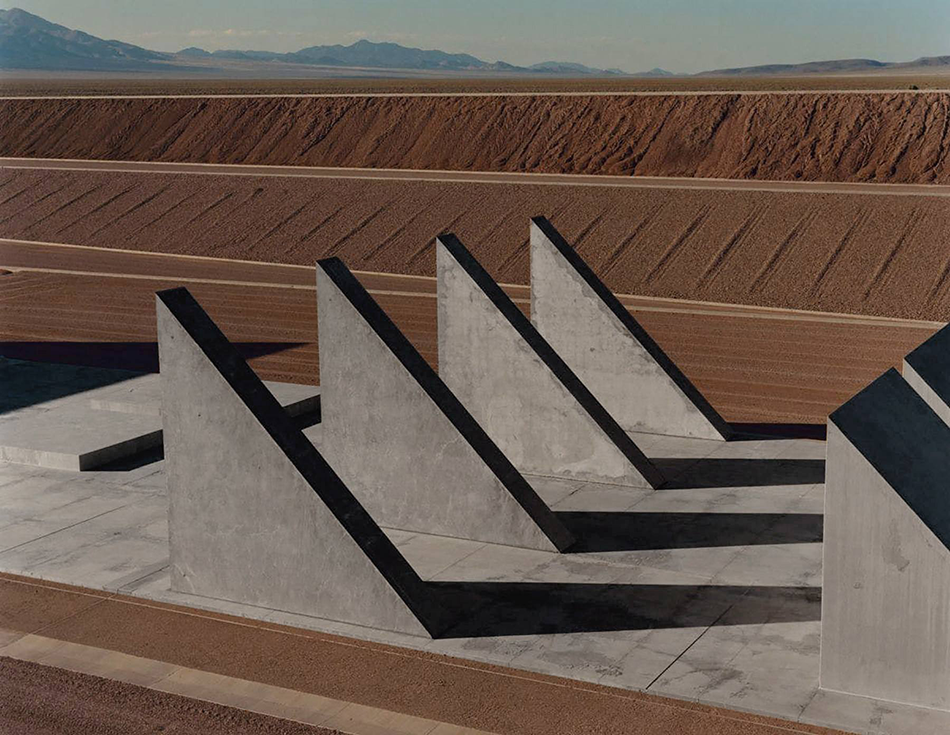 "As long as you're going to make a sculpture, why not make one that competes with a 747, or the Empire State Building, or the Golden Gate Bridge?"
Michael Heizer
Nancy Holt and partner Robert Smithson are two other leading figures of this pioneering American Land Art movement. Often overshadowed by the work of her male counterparts, Holt's trailblazing sculptures, such as her "Sun Tunnels" (1976) series, have fundamentally informed the movement's legacy. Placed in the desert of Utah, large concrete tubes that are pierced with a pattern of holes interact with the natural sunlight.
Over the course of her career, Holt pioneered site-specific installations while embracing contemporary new media, continuously expanding space both physically and conceptually. Her sculptures act as framing devices that allow viewers to become aware of their surroundings.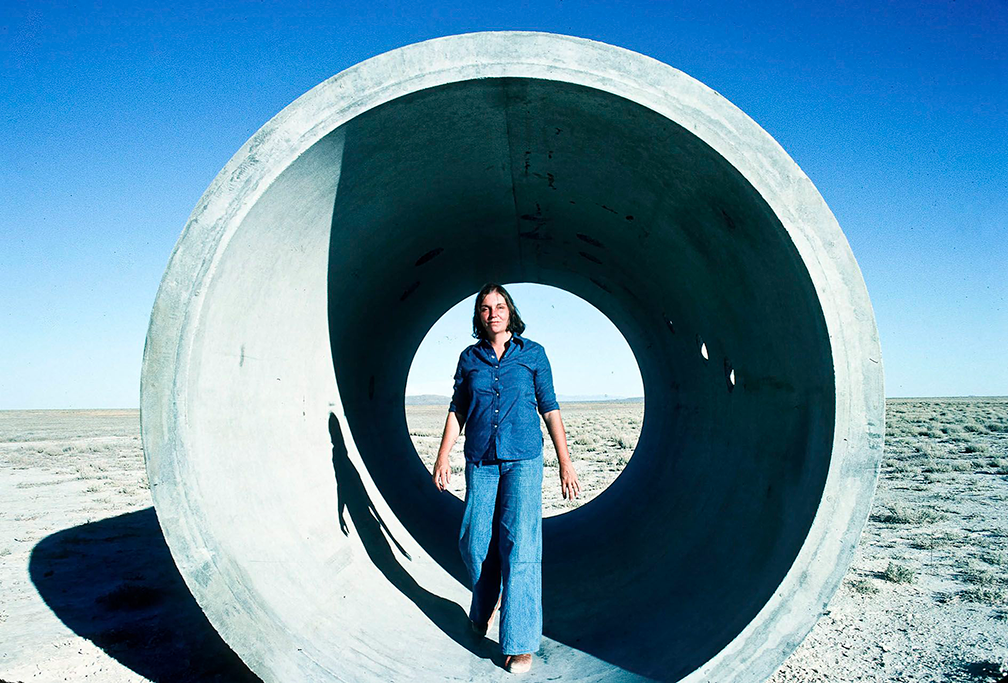 "While not overly political, members of his mostly American movement tended to be dissatisfied with the constraints of the market-driven art world and cultural commercialism and many of them sought out remote sites unscathed by previous human intervention, where they could create monumental sculptures that enabled the viewer to directly experience the natural world"
Nancy Holt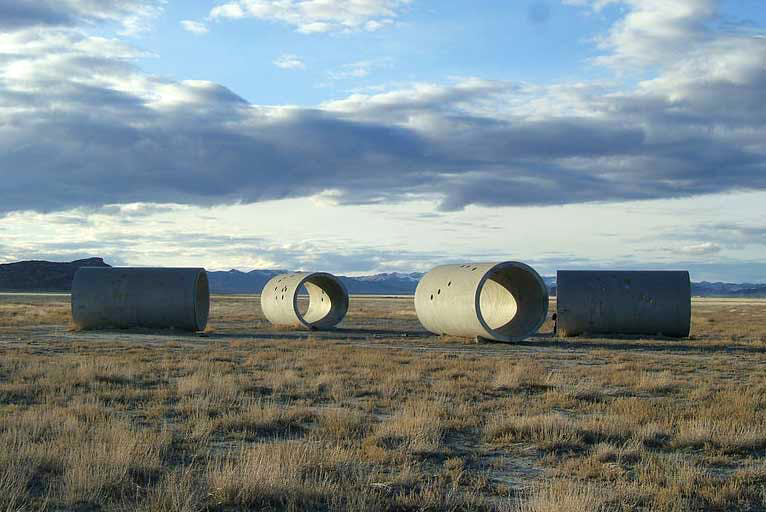 Holt's husband and fellow Land artist Robert Smithson become notably more prominent during their lifetime. His iconic work "Spiral Jetty" (1970) remains a hallmark work in reference to the movement. As a site-specific work, the "Spiral Jetty" is located at the Rozel Point peninsula on the shore of the Great Salt Lake. Made from over six thousand tons of white basalt rocks and earth, the spiral is formed over 1,500 feet long and 15 feet wide. Smithson chose this specific location due to its particular ecosystem: The high presence of microbes causes a reddish discolouration of the water. As a result, the white to pink contrast stands out, merging with the shoreside. Not only has this particular work become Land Arts most iconic image, but Smithson is also credited as the founder of the movement in the 1960s. Partners and collaborators for site-specific projects, much like Christo and Jeanne Claude, Holt extensively informed Smithson writing, and many sources have since said that her involvement also extended into the conception of many of his ideas.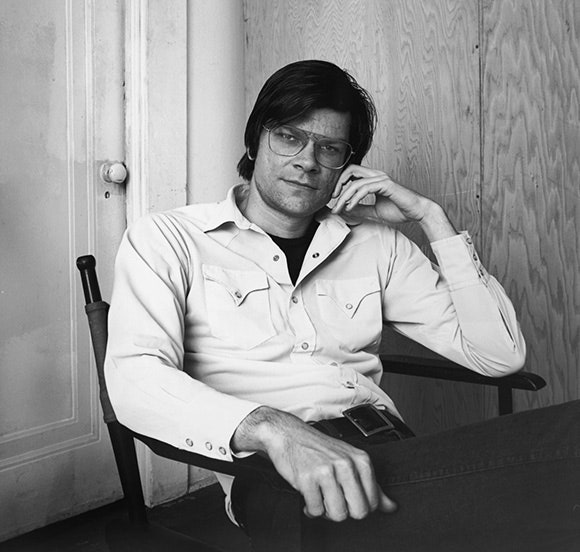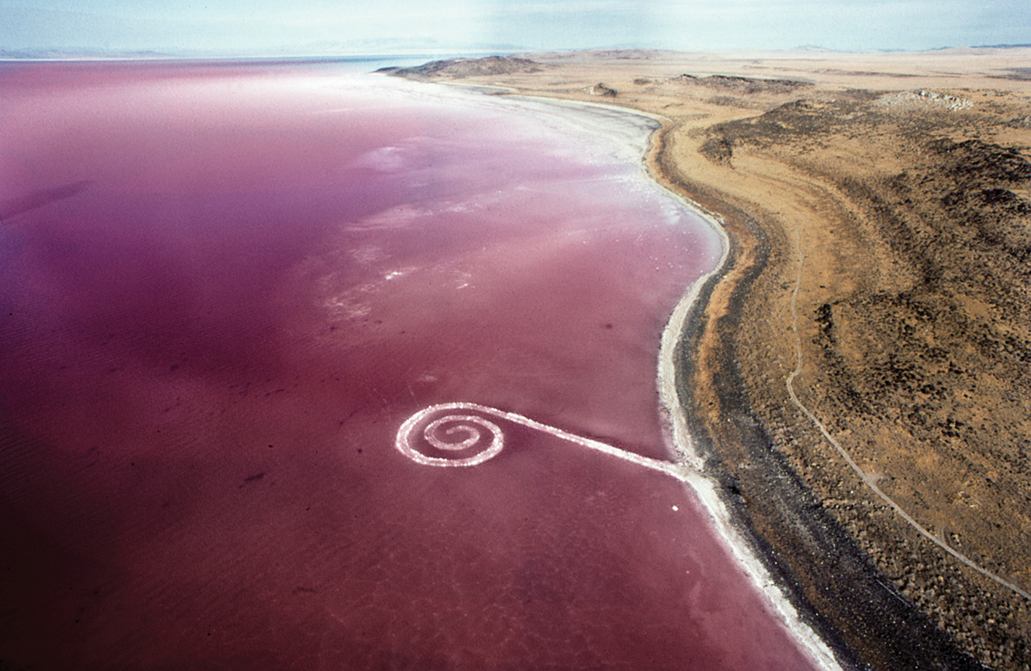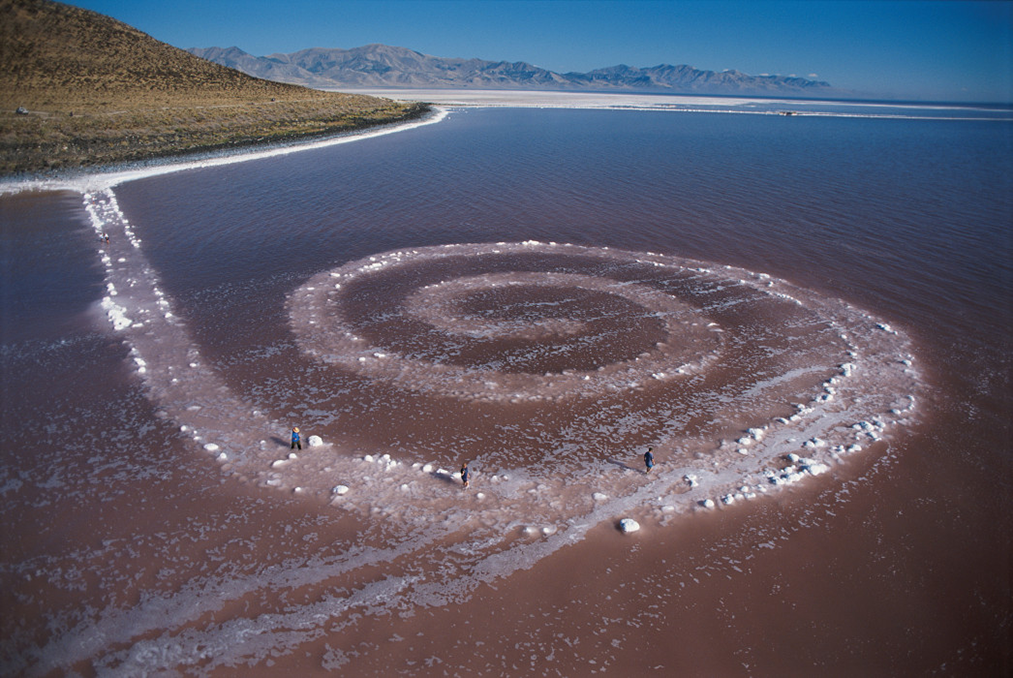 The story of Land Art is also that of an American art movement, dominated by the white male gaze and dominating practice. A male preserve that has only in the last decade experienced a reconsideration and much needed focus on art practices of female Land Artists such as Nancy Holt, Mary Miss, Ana Mendieta, Beverly Buchanan and many others.