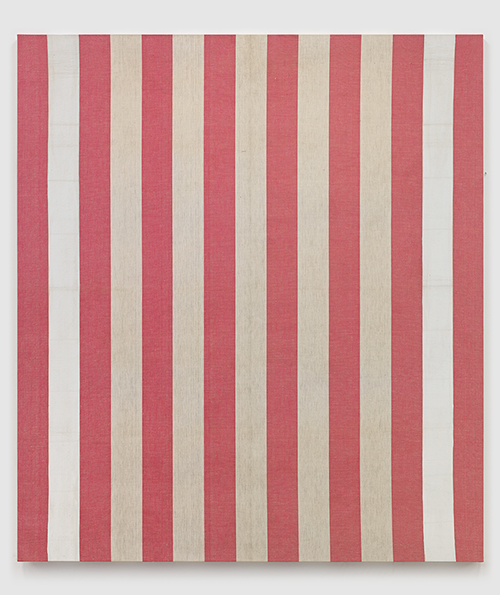 Daniel Buren,
Peinture acrylique blanche sur tissu rayé blanc et rouge
, 1968
Acrylic paint on red and white striped cotton canvas, stretched
,
150 x 133 cm (58 7/8 x 52 1/4 in)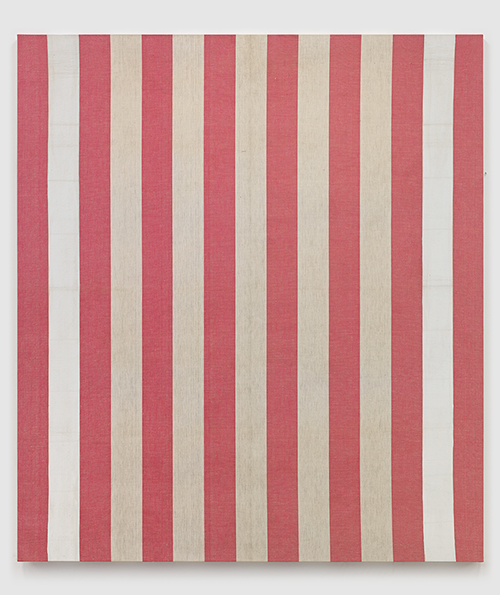 Daniel Buren is a French Conceptual artist best known for his distinctive site-specific installations of alternating stripe patterns. His concept of a "degree zero of painting", which he developed in the early 1960s, is the artist's hallmark approach to the conditions of making a work of art. Throughout his work, he often employs simplified patterns as an approach to color and graphics in relation to architecture and space. "My painting, at the limit, can only signify itself", he once declared. "It is. So much so, and so well, that anyone can make it and claim it". Born on March 25, 1938 in Boulogne-Billancourt, France, he went on to study at the Ecole Nationale Supérieure des Métiers d'Art in Paris, where he graduated in 1960. Buren's work soon developed to focus on the formal qualities of stripes as an aesthetic archetype, inspired by their ubiquity in both mercantile designs and clothing in his native France. Today, Buren's works are in the collections of the Musée d'Art Moderne de la Ville de Paris, the Tate Modern in London, The Museum of Modern Art in New York, and the Moderna Museet in Stockholm, among others. He lives and works in Paris, France.